back to home page
go to main menu
photos of Saxon churches
Anglo-Saxon churches in England; a general introduction.
Turriform churches, pre-conquest Romanesque fabric, pilaster strips, timber churches, with various churches discussed in outline.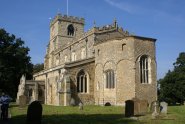 Firstly a broad (introductory) look at Anglo Saxon churches in England.
Most people will be familiar with the humble parish church and we can read the stones which have such a story to tell. Look for very large quoin stones or remains of blocked windows or doorways. The distictive Saxon long & short work of quoins (corner stones) sometimes use (upright - or 'long') stones as tall as five feet. Pilaster strips may be perceived which are often a distinctive feature of walling, and also blank arcading perhaps within vertical pilaster strips (as extant in the tower walls at Earls Barton in Northamptonshire and at Bradford-upon-Avon, Wiltshire - see the photo menu). One overriding feature is the characteristic narrowness in relation to the substantial height of Saxon buildings, and doorways are usually of tall and narrow proportions. Look for triangular headed doorways, and doorways and small window openings constructed of massive ashlar blocks (megalithic construction). Perhaps because of the relatively large numbers of surviving country churches where Saxon work can be found, the smaller buildings and their features may be of a modest scale which look quaint - archaic. In the cases of Minster churches, such a Stow in Lindsey, the proportions are far larger than the average parish church. The rich Saxon Monasteries (such as Sherborne Abbey) built on a grand and imposing scale, and particularly high status mature late Saxon (Continental) Romanesque fabric can be misinterpreted and confused with that of very early (English) Norman Romanesque. St. Peter's Westminster, Edward the Confessor's Saxon Minster built in 'imported' Romanesque style was consecrated on Christmas Day 1065. The building was as large as the present structure, and doubtless some Saxon walling exists buried underneath the later medieval reworking. And how many people know of the existence of a Saxon door in St. Peters (albeit in a cut down state)? There are a number of high status buildings where a substantial part of the fabric remaining is pre-conquest, for example the churches at Bradford-on-Avon, Brixworth, Milborne Port, Sherborne Abbey, Stow-in-Lindsey, Deerhurst, and Worth.
This understandable confusion with "Norman" Romanesque is particularly so with the larger churches and Minsters, and none more so than those with central towers over a crossing, which one might regard as arriving with the conquest. Some fine churches with this prominent feature which are worth mentioning here are - Stow-in-Lindsey Lincolnshire, Norton in Co. Durham, Milborne Port in Somerset, Sherborne Abbey church in Dorset, and Great Paxton in Huntingdonshire (the latter with a fine nave arcade and crossing arches but the tower now taken down to roof level). Saxon work was often substantial, in as much as churches were built on well prepared foundations and in good stone areas massive blocks were employed which were in many cases reused Roman stone. In poor stone areas such as Sussex and Norfolk, flint was widely employed, some windows being executed in flint but where some stone was imported it was used solely for windows and doorways. In some cases, such as Postwick in Norfolk there are no quoin stones and flint is cleverly used at the corners of walling. Roman cities nearby or on site were robbed for their stone and brick (St. Albans, Lincoln, Colchester, York). As Saxon walls were of good quality build they were often (in the smaller to medium size churches) only 2 foot six inches in width (0.76 metre). Towers were however constructed with more substantial supporting walls, the central tower at Milborne Port has walls in excess of 5 feet. At Netheravon (Wiltshire) the tower has walls 3 foot 6 inches width. Churches of considerable note are Brixworth, Earls Barton, Escomb, Stow-in-Lindsey, and Worth, to name only five. The reason for the modest wall width is the excellent strength of Anglo-Saxon motar, which, when compared to that used by Norman builders, is superior.
Note: to convert inches to metres simply remember that a foot (12 inches) equals 0.305 metre; thus multiply inches by 0.0254 to arrive at metres.
The British churches built in the south east of England between the 5th and 7th centuries.
St Martin in Canterbury was built, according to Bede, in Roman times (i). In 669 a priest called Bassa was given the ruins of the Roman fort of Regulbium (Reculver, Kent) in which to build a minster. The ruins of Reculver Minster still stand, wantonly dismantled in 1805 (scroll down for picture), there remains walling above foundation level of the early church (the Norman twin towers still stand though without their spires). The great triple chancel arch is now housed in the crypt of Canterbury cathedral. We remember the influence of the reforming archbishop, the Syrian, Theodore of Tarsus, Archbishop of Canterbury (669-90). Syrian civilisation collapsed with the arrival of the Persians in 610. The outcome was the dispersal of Syrian monks and craftsmen throughout Christendom and into Christian Europe, and it is to them that the unusual arrangement of the porticus at Bradwell and Reculver can be ascribed. They are not in fact for burials but are the diaconicon and prothesis of the Syrian church - chapels used for the receipt of offerings from the faithful and their preparation for the altar (i).
(i) source: Anglo-Saxon England, by Lloyd & Jennifer Laing.
Who built the churches and Minsters?
The size and style of any church in the Anglo-Saxon period depended upon the status of the Lord, or Theign, who would have funded and commissioned the fabric to be built. Remember that in the years before the 11th century there was no concept of a "parish" church and stone crosses in early days served as places where the clergy would preach from. Churches built on estates (such as Breamore in Hampshire) were effectively private 'chapels' for the use of the Lord and his family, and the larger Monasterium were monastic buildings. Towers may have elevated doorways which originally led to an outside gallery where the local population could receive blessing and hear the priest.
Some churches were 'tower' churches, known as 'turriform'. St. Peters at Barton upon Humber, the church at Earls Barton, and the church at Netheravon belonged to that type. They typically comprised a tower with adjuncts on one, two, or four faces, the tower comprising the 'nave' and the other 'porticus' arms serving as chapels with possible sacristy, or baptistery. They were perhaps status towers built by a (local) Lord - see the paper - Buildings of Secular and Religious Lordship: Anglo-Saxon Tower-nave Churches by Michael George Shapland.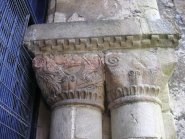 The sites of the later stone built Norman and medieval parish churches were initially, in the Saxon period, and in all probability simply marked by a cross, or in some cases possibly a timber church. A good sign to look for is a churchyard with an oval boundary (although this can be partially obscured in towns due to encroachment by buildings), and in proximity to a stream or river where early baptisms would doubtless have taken place. Building in stone in ensuing years was the mark of substantial funds and considerable wealth was made available for Saxon Minsters (Monasterium) and Monasteries, Nunneries, etc. It was in the years after 900 that the smaller stone churches (which became parish churches) would begin to appear in greater numbers. As an example Sussex has a very good scattering of such churches. In two (known) cases post-Roman Christian buildings were located at, or in, Roman buildings. Revealed just beneath the present nave floor (on the south side) of Wimborne Minster (Dorset) is a part of a Roman mosaic floor made of small tesserae. It is currently viewable and is protected beneath glass. Quite probably there is far more of the Roman flooring buried under the present floor. In some instances Christian churches were sited at a Roman villa, such as at Rivenhall, Essex. A Seax archaeology report stated: A Saxon cemetery was also centred around the villa remains and, subsequently, an early medieval timber church was constructed over the southern part of the main villa building. It has been suggested that the villa building itself may have been reused as an early church or mausoleum. This is possibly the case at Wimborne where a room in a villa used as a Christian chapel may have continued in use into the post-Roman period to be expanded later as a Minster church. The church of All Hallows by the Tower, in London, is sited over a Roman pavement which may be seen in the Undercroft; the Saxon part of the church dates from 650. Any excavation to explore Roman sites below churches would be extremely difficult due to the extent of a medieval church and graveyard currently in use, whereas at Rivenhall investigation was able to be carried out due to various favourable factors. Christianity became a tolerated religion of the empire when Constantine became the sole Roman Emperor in 324, and it follows that certain citizens would wish to use a room of their property as a Christian chapel, Rivenhall being a case in point where this possibly happened.
High status buildings such as minsters, cathedrals and monastic fabric were in receipt of, and had access to, funding by a wealthy patron, and in some cases the king(v). That permitted sourcing highly skilled masons practising the newest and latest style. They would have commanded higher rates than the average jobbing mason who would have worked on smaller buildings. In those decades preceding the Conquest, Anglo-Saxon masons were doubtless sent across the channel to be schooled in the art in masons yards in northern Gaul, and naturally their highly skilled work reflected the style and techniques learnt of Romanesque building as it was developing on the continent. In the (partially) blocked windows, for instance, in the south wall of the chancel at Milborne Port church we see a mixture of "Norman" Romanesque and Saxon Romanesque in the dual style of the capitals, and on the exterior wall remnants of allied pilaster strip work with arcading relating to those blocked windows. This 'dual' style at Milborne Port can be dated as belonging to a date of approximately 1050 in the time of Regimbald's tenure. The remains of the chancel windows exhibit capitals of both styles and indicates masons employed, at the same time, some being schooled in traditional work and some having been either exposed, or schooled, in Continental Romanesque style, or perhaps foreign masons from the Continent. In the case of Milborne Port the high status of the building is not in doubt since the Chancellor Regimbald funded the work and doubtless this allowed masons capable of the highest quality of workmanship to be employed. At the Conquest Regimbald fell from favour and retired. For more information see both the text file and photo file on this church.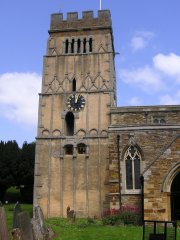 What makes a building so very much "Anglo-Saxon", and what distinguishing features might one look out for?
That very distinctive strip-work on wall faces, the pilaster strip, must be the one singular feature running through the centuries and common to the humble church and Minster which can all exhibit that feature (for example the chancel at Deerhurst St Mary in Gloucestershire, Milborne Port (chancel) in Somerset, Earls Barton (tower pictured left), and Woolbeding church in Sussex).
Let us look at the 'early' days of Saxon building and examine how the fabric looked. Features one might observe, firstly the walling - pilaster work, quoining, plinths and string-courses, the particular build and material of a wall, and its proportions. Then secondly features such as windows, doorways, arcading and surface decoration, carvings etc. The walls of a fabric are the load bearing shell and this is certainly the part one at first sees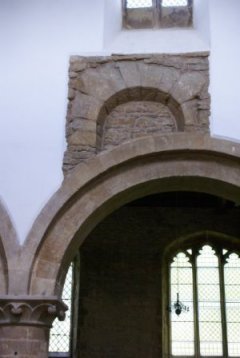 when approaching a building, the windows and openings and decoration are another aspect in that same fabric. Often features have been lost, replaced and cut out, or blocked up over the centuries, doorways, windows perhaps, so that in extreme cases all we have left is a quoin or perhaps a section of walling remaining. Possibly a later arcade has been inserted in the lower part of a wall. Now this latter point is worth elaborating upon, and you will understand that when a nave was "aisled" the particular wall in question was not removed. The technique was to cut out and insert the later work, usually an arcade, a doorway, or window. The picture (right) shows a Saxon blocked window (with the characteristic non-radial vousoirs) at Brigstock church, Northants. It has been truncated by insertion of a later arcade beneath it. This skillful insertion achieved one main aim, to radically minimise the amount of work expended; demolishing a wall only to rebuild it over the new arcade was not an economic option. Importantly it meant the building could be kept in more or less continuous use. This technique was taken to the extreme degree at Romsey Abbey (Hants) where the new Norman Abbey was built 'outside' the existing Saxon church, actually encapsulating the old building, so there was little disruption to services, an outstanding feat. At Wirksworth the present nave was built outside the pre-conquest nave which was then demolished after the new fabric was completed, the stub/scar of the old wall (on the south side) being visible where it abuts the central tower.
Early roofs have disappeared, either through the enlargement of a church, or through the love of low pitched roofs in the 15th century, or their total replacement in Victorian days where the roof might have been found to be in a dangerous condition. However, their remains may often be found in the weather moulding left on a tower, or adjoining wall (as at Sherborne Abbey). Possible remains of the Saxon roof over the eastern part of the nave at Deerhurst were lost in Victorian days when the roof was 'tidied up.' The south porticus (roof) lost its identity at this time and was absorbed into the aisle, with one continous roof. Old photographs testify to the older configuration. For a high status Saxon nave see Hutchins drawing of the old nave (sadly demolished) of St. Mary Wareham.
Timber built churches. Unfortunately there are no surviving timber buildings from the 7th and 8th century for us to compare the technique. Many of the early (and smaller) churches would have been constructed in timber, as indeed was the tiny chapel at Glastonbury Abbey (see below). Take as an example the one remaining survival of a church built in this material, at Greensted in Essex. Dating to the second half of the 10th or the first half of the 11th century, it was claimed by a thirteenth century writer that it was in existence in 1013 when the body of St. Edmund, King and Martyr, was conveyed from London to Bury. The timber nave is just under thirty feet long (internally) by 17ft 3in. wide. The walls vary in thickness between about 5 and 10 inches. The present (west) timber tower is 'modern' and the brick chancel is Tudor. Heavily restored in 1848 the oak tree trunks were sawn short and the whole structure rebuilt on a brick plinth and oak sill. This alters the external appearance dramatically. H.Taylor says in volume one of his "Anglo-Saxon Architecture" page 263: "It is difficult to be sure, a hundred years later, how necessary this restoration actually was, but the Rev. A.Suckling recorded his opinion in 1845 that the walls were then so sound and strong as to defy conjecture about the limits of their durability." It therefore seems that timber churches were still being built long after stone was in general use for church building. Remains of another timber church has been found underneath the flooring of a later church, at Potterne in Wiltshire, and there is an early site built into a pagan temple at Yeavering in Northumberland. The small chapel at Glastonbury Abbey was in fact made of wattles and known as the Old Church (Vetusta Ecclesia), and which was said (according to Bede) to have been built by disciples of missionaries who had come to Britain at the request of King Lucius in the second century, although it seems Lucius was from Mesopotamia. The error may have crept in due to misreading the place "Britio" as "Brittanio". However, this does not detract from the history and the early foundation date, it only means that the benefactor's name is lost. This wattled structure had later been covered with timber planks and lead. Discovered by excavations after 1950, this small structure which had no paved floor was some 17 feet by 13 feet wide. Fragments of pottery found trodden into the floor ranged from a scrap dated to the first century AD to the fifth and sixth centuries (and included 2nd century Samian ware). It seems that this early and much venerated building (sited under the medieval cloister) survived into the time of the Norman Abbots Thurstan and Helwin, and beyond, until the disasterous fire in May 1184 destroyed everything including the pre-conquest fabric of the Abbey belonging to King Ine and Dunstan's time.
The traditional use of timber perhaps explains in some measure the appearance of churches when pilaster strips are used. The Saxons may have been replicating how their timber buildings looked, it was the style they were familiar with. And so with pilasters, and bracing (or 'cross-work'), and with triangular headed doorways and similar windows they built their churches - in stone. In almost every single case the pilasters (and often the quoins) were cut back to leave proud the square sided 'upright' effect that you might expect from a hewn length of timber. Warwick Rodwell (and see ''Timber building techniques" below) explains how a (2 light) triangular headed belfry opening at Barton-upon-Humber (St. Peters church) was contructed using wooden boards instead of stone slabs to form parts of the gable heads. He explains how the builders were patently carpenters who were working in stone, and time and time again they built in a way that a stone mason would never do.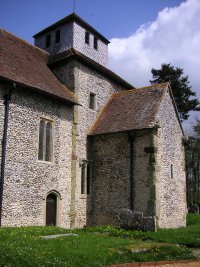 Other features.
Pilaster strips. It should be understood that pilaster strips were not purely ornamental. At Deerhurst St. Marys they may be observed in the south wall of the ruined chancel and the stones run deeply into the thickness of the wall. At some sites this may be a reflection of the size and availability of re-used Roman stone with which they were dealing (iii). However stonework applied to, or very near, the surface would not be sound practice and so it made sense for the builders to have included them as an integral part of the construction. In virtually all cases the areas of walling between the raised stonework was plastered over and hid virtually every remaining part of stone, rubble or flint from view. The Victorians love of stripping off plaster may account for the dearth of the same on church exteriors today; however at Netheravon church the tower still retains the major part of its plaster covering and which butts up against the alternate quoining. At Breamore both the substantial (corner) quoins and intermediate vertical stonework were cut back to present raised pilasters which could be plastered up to; this plaster covering is now lost there. Two remarkable buildings illustrating this clever use of pilasters are the tower at Earls Barton (with associated arcading) and is also one of the best examples of intact plaster work, and the wonderful stone built chapel of St.Lawrence at Bradford-on-Avon with pilasters and associated arcading (and which will appear here in the list of photo files in Spring 2011).
Timber building techniques used in stone built fabric. Professor Warwick Rodwell, in his "Anglo-Saxon church building" raises some most interesting points, where timber joining techniques are translated into stone, with curious results. It appears perfectly plain that a race of people used to working with timber, carried forward their techniques and methods when building in stone. For a more expansive treatise upon this point see the section dealing with Earls Barton church (yet to appear on this site). For Barton-upon-Humber church see Rodwell's excellent report on the excavations there (iv). For photos of both churches go to photo pages.
Flint walling. Rodwell also explains how, in areas with a dearth of stone, such as Norfolk, but where flints were plentiful, the technique employed was to raise the walls between timber shuttering, see his Anglo-Saxon church building. He also explains how, in stone walling, 'heap' building in rubble may be identified. It is even possible to differentiate walling raised using unskilled labour and that built by skilled masons, sometimes the different work adjoining, and even levelled off at the end of the days work by the skilled worker. This makes sense since unskilled men would be labouring under the supervision of trained masons, as found throughout the ages and into modern times. He explains how breaks between different days work can also be identified. Unfortunately we know too little about how masons were schooled in those days. Certainly there were skilled men versed in stonework in early days, witness the Syrian craftsmen active in Kent in the 7th century, and doubtless they were key in passing on the craft to the men labouring under their watch. It seems reasonable to assume that stone built churches/chapels were not uncommon in that time, and we do not know how much work has been lost, or indeed how much early walling actually comprises parts of church fabric standing today. I suspect it is more than we realise. However, it would take a knowledgeable man to be able to date walling without the attendant features (windows,doorways etc) and those have often been inserted at a later date in the original wall.
Roman features and characteristics. An example of this is the chancel arch of St. John's at Escomb (Co Durham). Tim Eaton explains in his book (ii) and which see page 146, that 'it is identified as Roman on the basis of the first of these: it is of typically Roman form, very tall with massive through-stone jambs, simple chamfered imposts and precision-cut, radial voussoirs, to be compared with the non-radial voussoirs that the Anglo-Saxons typically manufactured.' The Roman arch was removed from its original site and re-erected as a chancel arch. At Corbridge church the massive tower arch is Roman and has been lifted from nearby Coriosopitum. In some cases whole Roman columns were reused, as in the 11th century north and south arcades at St. Mary's Ickleton (Cambs), and which see 'Anglo-Saxon Architecture' Vol I by H.Taylor, pages 330-332. Roman columns were re-used to give access to north and south porticus at the ancient church of St. Wystan, Repton (Derbyshire) but have been removed to the porch. Reused stone which exhibits Roman carving and detail is to be found in the two (porticus) arches at Britford (Wilts). The chancel arch at Bosham church would appear to have reused Roman column imposts for the capitals, and at Sompting church (Sussex) in both capitals of the tower/nave arch there seems to be differently decorated stone 'inserted' (of a contrasting type/colour) which may well be Roman. In many other cases reused Roman stonework was used either for detail, or simply in the walling (as at Hexham for Wilfrid's crypt), and in other cases for entire churches (Escomb).
In many pre-conquest churches re-used Roman materials remain and we know that Roman buildings and cities were robbed of their materials. Certainly a race of people used to building in timber would hardly be likely (initially) to have the expertise to start quarrying stone, and in any case all through the centuries (Roman) building stone has certainly been re-used, although maybe not exclusively (ii). Certainly there were many tons of Roman stone to be had and in many cases the buildings were doubtless still standing when the Saxons were here. Many stone quarries were not reopened again until the 10th and 11th centuries. Take Old Sarum in Wiltshire for instance (although at a later period), where the old Norman city and its buildings were systematically dismantled and large amounts of ashlar was used in 13th century Salisbury. In the early 11th century the Anglo-Saxon abbots (Ealdred and Eadmer) of St. Albans were given licence to remove Roman stone and material from the 'ruins' of the city of nearby Verulamium and presumably this was used to build, or rebuild, their Abbey church. Roman materials seem to have been in plentiful supply, enough to last nearly 500 years! It should be noted that the massive columns of the Roman basilica at York stood in situ until 800, and it would be logical to assume that other Roman buildings stood until well into the Saxon period. The demise of any building is either termination of use, or it is physically worn out and unrepairable, and demolition (and reuse) may then follow (if not preceded by collapse). Not only was it convenient (and cost effective) to re-use prepared stone but there was the kudos of incorporating Roman stone from prime buildings. There are examples in later medieval times of whole, or substantial parts, of large houses being taken down and sold off by the owners (to cover debts) for every part of the fabric, bricks, stone, windows, and glass.
Losses of important fabric through demolition.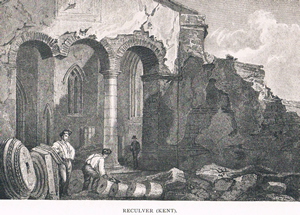 As a matter of course, bearing in mind the length of time Saxon buildings have been standing, much has been lost, or destroyed, either through the obvious rebuilding through the ages of a parish church which has grown too small for the growing population, or through neglect, or through deliberate design. In the last case scenario much was lost in the Victorian age, that time of great church building revival when a part or the entire fabric of a building was replaced. Let us now look at two instances of major demolitions of fabric, both lost within comparatively recent times.
Probably one of the greatest losses was the destruction of Reculver (Kent), the church dating from the 7th century. As Taylor mentioned in his book - "The wanton demolition in 1805 of St Mary's church at Reculver, on the north coast of Kent between Herne Bay and Margate, was an act of vandalism for which there can be few parallels even in the blackest records of the nineteenth century." The plate (right) shows the church in process of demolition, and in particular the three arch 'screen' separating the nave and chancel. The two Roman columns are today housed in the crypt of Canterbury cathedral, and were formerly in the cathedral close on the north side of the choir (having been rescued from a local garden!).
Another dreadful demolition occurred in 1841-2, the great Saxon nave at Lady St. Mary's church, Wareham (Dorset), was taken down by the vicar because he wanted a new building with a gallery. He was removed shortly afterwards, but the dreadful damage had been done and we have regretably lost one of the top ten 'high status' buildings of Saxon date.
In the case of both Wareham and Reculver we mourn the passing of two wonderful buildings, again, both with arcades which originally, in all probability, led to side chapels and which included a north and south porticus.
Important features lost.
In the case of Sherborne Abbey (Dorset) the Saxon nave was skinned over (and heightened), possibly in Norman times, and again when the present work which dates to the first quarter of the 15th century was commenced. The existing Abbey church as you see it today is essentially the layout and size of the cruciform Saxon Minster (albeit now with a taller walling and heightened tower). The rough walling extant today in the west front is the Saxon east wall of the westwerken, to which the nave abutted, and had, until the 19th century, Saxon blank arcading. Sadly this was removed when the west window was enlarged. Its existence was astutely noted by the builder engaged to rebuild the window. Nearby, St. John's church at Milborne Port (Somerset) had similar arcading in the west front of the nave (and see below) and it was noted prior to the demolition of the old nave. We can still celebrate considerable remains of Saxon work in that ancient church which is a fine cruciform fabric with the four tower arches (more or less intact) at the crossing. The chancel also exhibits much work, particularly on the exterior of the south wall. However, the removal of the greater part of the Saxon nave (in 1867) and which included the Saxon west front which had triangular headed arcading, is a sad loss. A peculiar feature of Saxon fabric in a cruciform church may be seen clearly, at both St. John's Milborne Port and at Sherborne Abbey, as well as Wimborne Minster in Dorset; the area that the crossing (tower) covers on the ground is of a larger dimension than that of any of its four abutments, so that the corners of the tower can be seen rising without being 'hidden' by the nave, transepts or chancel walls. Contrast this with Norman work where the abutments are all the same width as the tower (Romsey Abbey is a good example). This clearly demonstrates a peculiar Anglo-Saxon trait, and which we will return to explore in detail later on.
Losses such as the nave at Milborne Port are more frustrating when the particular fabric in question was in the most part in good order and only occurred through the zeal of the particular authorities who may have realised the attraction of a cash sum linked to the building of a fabric which could accommodate a greater number of people than hitherto, and which also related to the number of "free" pews provided. This, more than any other aspect doubtless contributed to the demise of much medieval fabric which was fundamentally sound. Many, however, were far from sound, and were either in a precarious state due to winter flooding, or settlement or through sheer neglect or even wilful damage in days gone by. None more so than the indifference of the Commonwealth period of Oliver Cromwell when soldiers horses were tethered in the nave of Lichfield Cathedral and cannon were shot at the towers and spires.
Much restoration work has been done however in the last 150 or so years, some of it good and some not so. Some destroyed features which are not now recoverable, drawings in some cases were made and accurate records kept, but this unfortunately was not the norm. However, the artist John Buckler (vi) was active in the early 1800's and his paintings of churches are an invaluable record of fabric now not in existence.
Losses of entire fabrics have occurred in comparatively recent times, St. Mary Bishophill Senior (York) for instance, was demolished in 1964. We must be most thankful for the existence of the "Redundant Churches" body, without which even more fabric might have fallen into terminal decay and ruin in more recent times.
Pictures this page, from top (and left noted first, if 'paired'):
Impression of early 11th century Sherborne Abbey
Wing (Bucks).
Netheravon (Wilts).
Earls Barton (Northants).
Brigstock (Northants).
Breamore (Hants).
Reculver (Kent).
St. Peters, Barton-upon-Humber (Lincs).
Impression of early 11th century Sompting (Sussex).
Notes and references.
i. Anglo-Saxon Architecture, volume II (H.M.Taylor), see pg 634
ii. Plundering the Past: Roman Stonework in Medieval Britain. Tim Eaton
iii. Anglo-Saxon church building; aspects of design and construction. Warwick Rodwell.
iv. St. Peters Church, Barton-upon-Humber: Excavation and Stuctural Study, 1978-81. by Warwick Rodwell & Kirsty Rodwell (and see further reading).
v. The Church in Anglo-Saxon Society. John Blair. see pg 84.
vi. John Buckler (1770-1851), artist. And see page, further reading.
Click here for main menu (including photo pages of individual selected churches).
Over 400 Saxon churches listed! - an invaluable listing/database, a downloadable table (unique to this site) which gives information of the known churches in England exhibiting Saxon features and fabric (and with details of those features), a comprehensive listing noted by place name, county, and grid reference; wholly based on H.Taylor's three sterling volumes, "Anglo-Saxon Architecture".
Searching for a particular church? See if its featured here.
founding dates of the larger churches